Certificates
Our certificates offer an easy way to save for the future! With guaranteed returns and a variety of terms, the choice is yours.
We offer both savings and IRA Certificates with terms ranging from three months to five years. When compared to a regular savings account, certificates earn a higher dividend rate.
Features
Deposit options starting as low as $1,000
Certificate Secured Loans available
Tiered rate structure available for select terms
Dividends are compounded quarterly
Youth & Teen Certificates
If you're looking to put money aside for a child's future use, we offer both Youth and Teen Certificates. These are designed to help parents, grandparents and others establish savings for important young people in their life while earning higher dividends than a traditional savings account.
4.50% APY*
Youth Certificates
for members age 0-12
5.50% APY*
Teen Certificates
for members age 13-17
*APY = Annual Percentage Yield. Youth Savings and Teen Savings Certificate minimum opening balance is $100. Additional deposits can be made up to $5,000 for the Youth Savings and $8,000 for the Teen Savings. The minimum additional deposit is $100. The Youth Savings matures on the child's 13th birthday. The Teen Savings matures on the teens 18th birthday. Any withdrawal prior to maturity will result in a penalty of all dividends earned. Rates effective as of 12-03-2023.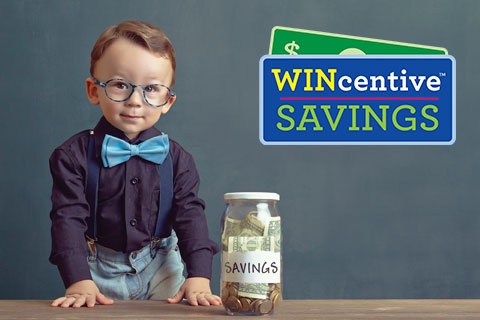 WINcentive Savings
WINcentive Savings is an account that offers you the chance to win cash prizes! Anytime you increase your savings balance by $25, you are entered to win (up to 4 entries a month). Learn more.