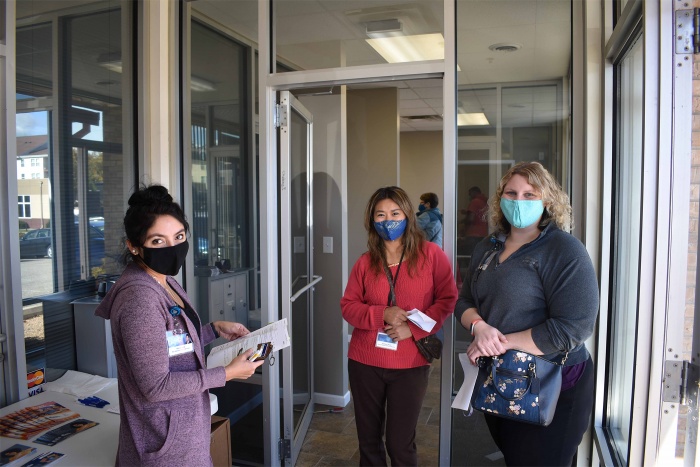 ---
We helped provide more than 6,200 pounds of free document shredding, 127 flu shots and launched a campaign to support The Ronald McDonald House.
---
For the sixth year in a row, Mayo Employees Federal Credit Union (MEFCU) gave back to the Rochester community as part of Caring It Forward Day on Monday, October 12, 2020.
As a service to our members, we provided free, secure document shredding throughout the day, collecting over 6,200 pounds or more than three tons of paper to recycle and shred.
The COVID-19 pandemic has made getting a flu vaccination more important than ever. For this year's Caring It Forward Day, the Hy-Vee Healthy You Mobile Unit provided a Flu Shot Clinic and in just three hours, 127 people received vaccinations.
We also launched our flagship initiative with NetGiver, a charitable giving app that cuts administration costs, so 100% of donations go to the nonprofits our members care about. We are the first financial institution in Southeastern Minnesota to offer NetGiver to our members. This initial fundraising campaign supports The Ronald McDonald House (RMH) of Rochester, which provides a home-away-from-home and offers support to families seeking medical care for their children. We're encouraging our members to give to RMH using the NetGiver app through the end of 2020.
Members everywhere can donate to any 501(c)(3) nonprofit, from anywhere in the U.S. at any time using NetGiver. Learn more and begin to give freely.
"Every year, I am impressed with the ways our staff and community come together to give back, and 2020 is no exception," stated MEFCU CEO Mary Hansen. "In such an unprecedented and difficult time for so many, we are pleased to continue the tradition of giving for years to come, now with NetGiver. We extend our thanks to The Ronald McDonald House for their impact on families already facing difficult times, and we encourage all of our members to help support this important cause."
Thank you to everyone who participated in this year's Caring It Forward Day!