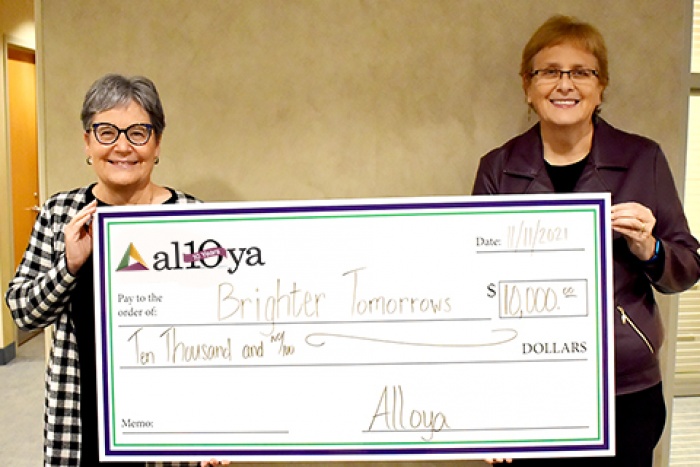 ---
Alloya Corporate FCU, a Mayo Employees Federal Credit Union business associate, has awarded Brighter Tomorrows, Inc. $10,000 through their 10 for 10 for 10 charitable program.
---
To celebrate 10 years of service Alloya donated $10,000 to 10 charities over 10 business days. Over the 10-day nomination period 101 nominations were received and Brighter Tomorrows, Inc., whom MEFCU nominated, was one of the 10 lucky recipients!
Brighter Tomorrows, Inc. is a non-profit organization that helps families faced with childhood cancer. Founded in 2007 by four mothers of children with cancer, this valuable organization provides support, comfort, education, and distraction from the daily struggles of dealing with cancer.
MEFCU Chief Executive Officer Mary Hansen has been involved with Brighter Tomorrow since 2011 and is very passionate about Brighter Tomorrows mission. She has also chaired their largest fundraising event, the Go for the Gold Run/Walk since 2014.
"We are honored by this very generous donation made in the name of MEFCU to an organization that does such important and impactful work. Brighter Tomorrows, Inc. is making an incredible difference in the lives of the families they serve," stated Mary Hansen, MEFCU Chief Executive Officer.
While the pandemic has limited in-person options, Brighter Tomorrows continues to adjust its program offerings to keep families connected. They offer virtual monthly family gatherings, as well as virtual or socially distanced educational and family activities, family care kits, and a Tomorrow's Chapter for grieving families.
Liz Canan, President and Founder of Brighter Tomorrows, Inc. stated, "The past 18 months with the pandemic has been so difficult for many and especially for non-profits. This incredible gift from Alloya will allow Brighter Tomorrows to continue its important mission-driven work of supporting childhood cancer families and connecting people who are on similar, unimaginable journeys to share experiences and support one another."
Congratulations to Brighter Tomorrows on this generous donation from Alloya Corporate FCU!