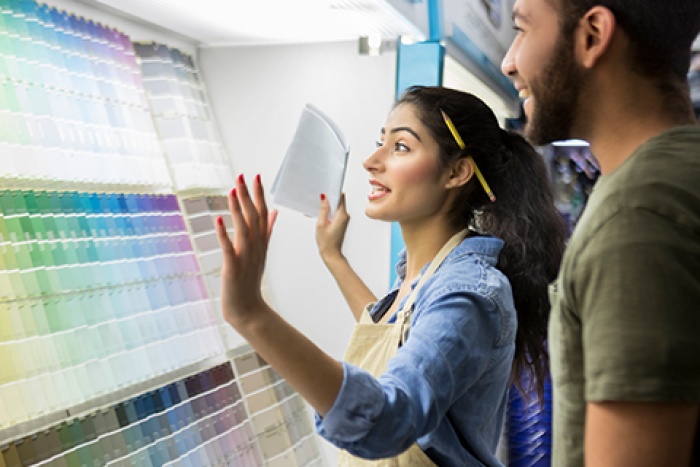 ---
Are home renovations in your future? If so, bring your ideas to life with these efficient tips for home projects.
---
The rise of popular real estate and home design projects in pop culture (Pinterest and HGTV anyone?!) is driving what people want from their home.
Low-cost projects that can usually be completed quickly and add to resale value include an upgraded or new garage door, fresh interior paint, updated interior light fixtures, a new (or freshly painted) front door, or landscape lighting.
Chelsie Hendrix, our Visa Representative, learned early on that a little paint goes a long way. Chelsie, her husband Jason, and children lived in a 1950's home in the Elton Hills area of Rochester, MN for five years that they renovated and were able to sell for a large profit.
"Paint is the biggest thing that changes the feel of our houses. Changing a dark red wall to a light and bright grey made the kitchen/living area look ten times bigger! Another smaller change that made the spaces feel new was changing the wall sockets from beige to bright white. It was pretty easy to do on a Saturday afternoon by turning off the power in each room on the breaker to update all of them. Also adding patio lights to the deck in each of our houses added so much life to the deck."
Tim Kramer, our Arizona branch manager, has an older home that was in need of major work. He agrees with Chelsie, "painting is easy and affordable as well as adding plants or shrubs to a yard, this can boost curb appeal without a major expense."
Spend More Upfront
Also consider the not-so-fun upgrades first, such as fixing a leaky roof, updating old drafty windows, or doing mold removal in a basement. Chelsie explains, "In our old house we did many upgrades but we started with putting in a new furnace and air conditioner first. We also installed a dishwasher, updated the stove, fridge, microwave, washer and dryer, and water softener. Then updated all of the lights and ceiling fans."
Plan and Plan Again
A simple project like installing a dishwasher can become complicated quickly if your measurements are off or if it isn't installed properly and leaks all over your hardwood floors. Avoid complications that tack on time by overplanning and organizing as much as possible ahead of time.
Tim's advice is, "Don't jump into a project too quickly. Make sure you have thought through all your options before starting a project or spending money on big changes. Our home was built in 1973, so sunken living rooms were popular back then. We re-tiled the living room to blend in with the rest of the house but if I were to do it again I would have spent the money to fill in the living room with concrete to raise the floor to be level with the rest of the home, to eliminate the step down into the living room."
Spending time in the space before updating it may be the best way to truly know what you want from your home before making the improvements.
Know Your Financial Options
We offer a variety of options to help you cover the costs including a Home Equity Line of Credit (HELOC), Fixed Rate Home Equity Loan with 5, 10, or 15 year repayment options, or a First Lien Home Equity Loan.
Now What?
Stop pinning and watching HGTV and start doing! Sit down and make a plan for your home. If your plan needs additional funds, stop by and see us. Or if you want to get started right away, apply for a Home Equity Loan online.