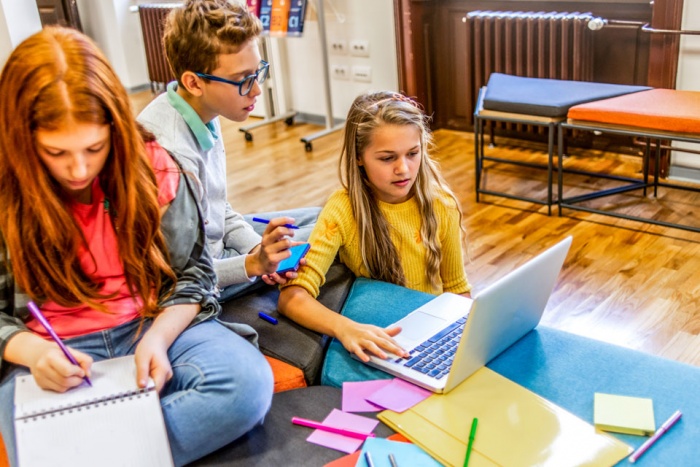 ---
The last few years have changed what we think of as a "normal" school year. What hasn't changed? The fact that school supply costs add up quickly.
---
Did you know families spend nearly $800 per child on back-to-school supplies? That's according to the National Retail Federation. Not only do kids need their own supplies, but limited budgets at many schools often mean families are asked to purchase supplies for their kids' classrooms as well (especially with the return of in-person learning).
The good news: you can stick to a back-to-school budget. We've compiled some tips to help keep supply shopping from breaking the bank:
1. Stick to Your List
Make sure you know what your kids need for the school year before you start seeing the things they might want. An easy way to avoid impulse purchases is to place your order online for either pick up or delivery. No wandering through the aisles means no temptation!
2. Shop Sales, Check Online
Most retailers start advertising their back-to-school sales well before the school year begins. Do some research to find what stores have the best deals, and don't forget to check online ads too! Sometimes prices differ between in-store and online.
3. Price Match
Price matching has become a new norm for a lot of retailers, and you can use it to your advantage. Are most of your supplies cheaper at one store, but you can find one of your bigger purchases somewhere else at a lower price? See if your first retailer will price match to save you an extra trip, and some money!
4. Use Coupons
Coupons may sound like a thing of the past, but realistically they've just changed platforms. Sure, you can still clip coupons from the Sunday paper. However, you might find a larger variety and things more specific to what you're already shopping for online.
5. Buy in Bulk; Share the Cost
Do you know another family that has a child in your child's class or grade? Go through your back-to-school list and see if there is anything you could save money on by buying in bulk; and reach out to that family to see if they'd want to share the cost. This way you can save by buying in larger quantities, even if you don't have the extra storage space.
6. Reuse What You Can
Did your kid only use a few sheets of the notebook you bought last year at this time? Are there still 12 of the 16 pencils you bought sitting unsharpened in the box? Don't bother buying new if there is something perfectly usable already in the closet at home. Rip out those pages, sharpen those pencils and start adding up the savings.
7. Buy Gently Used
We've all seen it happen: the new back-to-school outfit your kid was so excited about gets worn once and then makes its way to the local thrift shop because it no longer fits. You know what they say about one person's trash! Shopping gently-used items can cost mere fractions of what they cost brand new.
Back to school can be stressful for everyone involved, especially after the past few years. Lessen the financial stress by following these tips and keeping your back-to-school shopping on budget.