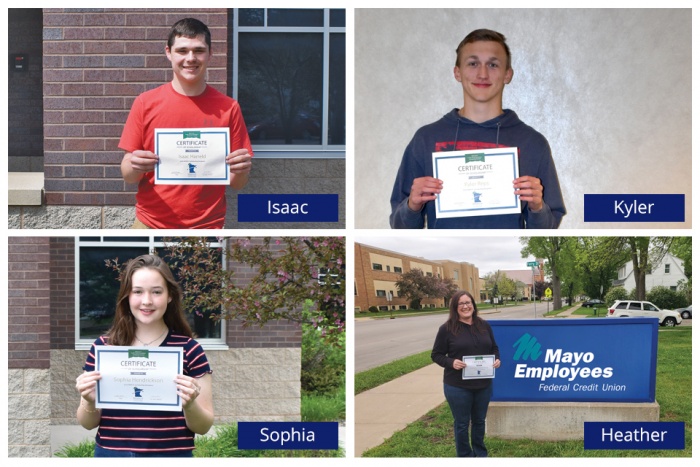 ---
We are proud to announce that it was an extraordinary year for scholarships. Congratulations to this year's four winners - Isaac, Kyler, Sophia, and Heather!
---
The Minnesota Credit Union Foundation Scholarship Council (FSC) has announced the recipients of their annual scholarships. A total of $20,000 was awarded to twenty credit union members in Minnesota and we are proud to say that four students from Mayo Employees Federal Credit Union (MEFCU) received this award!
Over 800 students from credit unions throughout the state applied for scholarships. Recipients of the scholarship were selected based on their essays submitted to the FSC. The winners from MEFCU are Isaac Harreld, Kyler Reps, Sophia Hendrickson, and Heather Oldenburg. All four were awarded a $1,000 Scholarship from the FSC. This year's question was:
"What is your plan to afford the costs of higher education based on your anticipated degree and future career income?"
Below are excerpts from each winning essay:
Isaac Harreld
"As I look forward to my future, and higher education, being able to pay back college loans is something that is very important to me. In the coming year, I plan to attend the University of Wisconsin River Falls and obtain my bachelor's degree in Animals Science with an emphasis in Poultry Science…With guidance, hard work and the steps that I have taken and plan to take in the future, I believe my future career salary will allow me to pay back any loans that I need to take out within 5 years of graduation from college."
---
Kyler Reps
"Begin to pay off student loans as soon as you are able to try to pay them off as fast as you can. I believe I received some excellent suggestions from family members, based on their own experiences with paying for the costs of higher education. For myself, I have maintained a savings account ever since I got my first job when I turned 16. I also watch for sales and compare prices on most purchases I make. I have also earned money by selling things to friends that I no longer need. I think the next step will be to read over my university's specific information on the costs of education and begin to think about what my monthly budget will be like for the first semester."
---
Sophia Hendrickson
"The idea of financing a college education is scary, but I've tried to make decisions that will be financially beneficial. I committed to putting a certain percentage of my earnings into savings. This has been very beneficial and I've been diligent so this money is untouched. I've taken advantage of PSEO opportunities through my high school. This program allows high school students to take classes at community colleges for free college credit. I found the classes to be challenging, and allowed me a preview into college. I took several classes that will count toward my future degree, saving hundreds of dollars. Since the cost of college is so high, I want to know what I want to study before I invest my money and time into earning a degree. I decided to take a semester off to work. I love traveling so I accepted a job as a short-term au pair in France. I am grateful for this opportunity as it has helped me earn and save money, and it has given me time to ponder my future educational path."
---
Heather Oldenburg
"In the end, my goal is to minimize my out-of-pocket expenses for college through planning, mindful financial decisions, and hard work so that I'm not overburdened by student debt as so many Americans, unfortunately, are today. Any remaining debt I have will also be made more manageable by the higher wages of my future career over my current job position. Determination and a strong desire to succeed are crucial for all students, whether they're just out of high school or returning after years in the workforce. My young daughter is excited that I'm going to be a "college student" again, and I'm determined to show her that anything is possible through hard work and with a positive attitude. When life hands you lemons, don't just make lemonade; build your own lemonade stand!"
---
Congratulations to Isaac, Kyler, Sophia, and Heather – we are proud of your achievements and excited for what the future holds for each of you! Click here to see the full list of scholarship recipients.